The Saint Luke's Guild of Delft
The lives of 17th-century Dutch painters, and certainly Vermeer's as well, were deeply effected by the Saint Luke's Guild. This professional trade organization for artists and artisans regulated the commerce and production of potters, engravers, glass makers, tapestry weavers, faiencers, booksellers, sculptors and painters alike. We also find with the guild architects, tapestry weavers, embroiderers, glass makers, glass painters, glass sellers, engineers, surveyors, mapmakers, map coloring specialists, calligraphers, typeface makers, printers, book binders, and as the proverbial odd ones out, chair painters, and a furniture joiner.1 In Delft they goldsmiths were grouped in a separate guild. Each city had its own self-governing guild which protected, promoted and defended the interests of its members.
"Membership of the guild brought along benefits, obligations and rules. A member was for instance not allowed to take over another member's job except for in cases of force majeure such as illness or drunkenness. A simple sick benefit system existed, providing income and medical aid in case a member got seriously ill. Members were expected to attend at funerals of other members. Fees and fines for trespassing these rules were collected by a footman."2 The following brief outline describes the basic characteristics of the guild as well as Vermeer's association with it. The board of the guild of Saint Luke comprised six members (two potters, two stained-glass artists and two painters) under the leadership of a dean who was a member of the council of forty, a municipal advisory body.
The drawing by Gerrit Lamberts (left) represents the facade of the newly constructed Saint Luke's Guild in Delft on the Voldersgracht.
Purpose
The guild of St. Luke must have been founded in the Middle Ages but it was first mentioned in documents in 1545. "In Delft, as in every other artistic center, artists and artisans came together primarily to limit the import of artworks from outside the city. This was generally accomplished by allowing only members of the local Guild of Saint Luke to sell paintings. Auctions of paintings brought in from elsewhere were forbidden except at the annual fairs (in Delft, the main public room of the town hall was used for this purpose)." 3 In exchange, member artists were required to pay an entrance fee of 6 guilders, which Vermeer himself, at the age of 21, was unable to pay in full due, probably, to his uncertain economic condition at the time.
"One of the pressing problems facing the Delft Guild of St Luke and Vermeer as one of its members was the lack of a daily saleroom facility in Delft for marketing paintings. Lacking this outlet, some Delft painters opened up their private fore-houses so that prospective buyers could look at the stock. During just one week in the year Delft people were free to do art trade during the big annual fair and market. During that time the sale of paintings was allowed for all, without restrictions."4
Apprenticeship
All future painter members of the Saint Luke guild had do undergo a period of training, or apprenticeship, which normally lasted from four to six years. The period spent in a recognized master-painter's workshop insured the young artist a thorough familiarization with the complexities of his craft. It should be remembered that in Vermeer's time much of the artist's materials had to be produced by the painter, and painting techniques were far more elaborate than those of most contemporary artists. For example, since paint was not sold in commercial tubes as it is now, each morning the artist had to hand-grind the colors he intended for use in the day's work. Hand-grinding paint presents a number of difficulties and requires much practice. This rather laborious task was often left to the apprentice. Guild "candidates were given a proper test assignment and with their apprentice tools, they had to produce their masterpiece of professional craft within a given period of time. Those who failed the test had to wait and try and train again for a period of 58 weeks."5
Training was expensive. On the average, the family of a young apprentice who lived with his parents paid between 20 and 50 guilders per year. With board and lodging included, up to 100 guilder were needed to study with the more famous artists such as Rembrandt or Gerrit Dou. If we consider that school education generally cost two to six guilders a year and that apprenticeship generally lasted between four and six years, the financial burden of educating a young artist was considerable. Moreover, during the apprenticeship, the parents had to do without their son's potential earnings because during this period the apprentice could not sign and sell his own paintings. Instead, all the works the apprentice produced became property of his master. Evidently, the allure of significant future earnings must have been significant.
In the master's studio, the apprentice was exposed to the thoughts, opinions and artistic theories which circulated with great rapidity between artist's studios. A number of Dutch painters had traveled to Italy to study the works of the Italian Masters and returned with knowledge of new techniques and styles which were rapidly diffused. Painters' studios were often lively places frequented patrons and men of culture. Animated theoretical debates and exchange of practical information concerning the art market must have been the norm.
The young pupil was first instructed in drawing plaster casts of Classical sculpture. Many of these casts can be seen in depictions of artists' studios; one, of a face, perhaps the god of light, Apollo, can be seen on the table in Vermeer's Art of Painting. Next, the apprentice came to grips with the subtleties of representing the live model, and only afterwards did he pick up brush and paint. He sometimes was allowed to work on the less-important sections of the master's own paintings, such as large areas of unmodulated color or monotonous background foliage. The master closely followed his pupil's progress and corrected him when needed. Some talented artists were able to leave their master's studio within a few years. Rembrandt progressed so rapidly that he already had pupils of his own at the age of 21. As the apprentice's skills improved he worked on the more complex areas such as drapery and hands.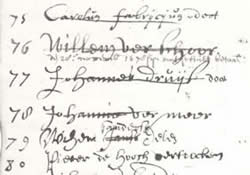 A detail of Saint Luke's Guild register with
Vermeer's name at number 78 and Pieter
de Hooch's name at 80 and Carel Fabritius at 75.
click here for a large image
Although Vermeer must have undergone an apprenticeship like every other painter in Delft, there remains no evidence with whom he had studied. Nevertheless, his "pathway to the St. Luke Guild was relatively easy, as the first step of guild membership had already been taken by his father, Reynier Jansz."6
For some time it was thought that Leonard Bramer, a native painter of Delft, might have been his master. This conjecture was based primarily on documentary evidence that suggests a certain familiarity between Vermeer and Bramer. But Vermeer's artistry has little in common with that of Bramer's strongly Italianate style even though his initial subject matter was compatible with the Classical ideas of the elder painter. Recently, scholars have come to believe Vermeer studied outside of Delft, perhaps in Utrecht, where his mother-in-law Maria Thins had relations with a well-established painter, Abraham Bloemaert, and other inhabitants of Utrecht. Maria Thins also possessed a number of paintings by Utrecht painters in her private art collection which were to later appear in the background of Vermeer's interiors. In any case, no documents have come to light that testify Vermeer's presence either in Utrecht or Delft in the period in which he would have been an apprentice.
We do know, however, that Vermeer was admitted to the Delft Guild on the December 29th of 1653. He was unable to pay the entire entrance fee. His name can be seen on the register of the guild at number 77 (above). The names of Pieter de Hooch (80) and Carel Fabritius (75) also appear on the same document. On St. Luke's Day, October 18th 1662, the artists of Delft chose Vermeer to be the vice-dean of their guild, which would seem to be proof that at that time he must have been a respected and highly thought-of-artist and citizen. However, by the time Vermeer was elected headmaster, many of the artists resident in Delft had left for the more prosperous Amsterdam, and so his election may have had less significance than usually thought.7
The guild of St. Luke was dissolved in 1833, gradually fell into disrepair and was finally pulled down in 1879.8 In its place was constructed the Jan Vermeer elementary school which was recently cleared to make way for a scale reconstruction of the original guild. This building is intended to house the Vermeer Center, which at the moment is not operational. (website: http://www.vermeerdelft.nl)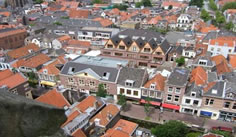 A view of the construction site of new
Guild of St. Luke in Delft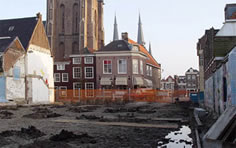 The newly constructed Guild of St. Luke in Delft as seen for the Nieuwe Kerk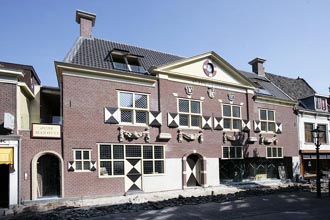 Guild of St. Luke in Delft
Artists in Delft
Ever since the powder explosion of 1654 which had caused the death of Carel Fabritius, Delft's community of artists had been shrinking. Many painters had left town, most to settle in Amsterdam, some in The Hague. Willem van Aelst, who painted still lifes, Emanuel de Witte (church interiors), and Pieter de Hooch (genre paintings) were the most outstanding of the group that migrated to the great emporium of the north. The only painter of note to migrate to Delft in that decade was Abraham van Beyeren, who registered in the guild in 1657 and stayed there a few years before returning to The Hague in the early 1660s. Cornelis de Man returned to Delft after a long absence spent traveling in France and Italy in the 1640s and early 1650s. The older generation of Delft painters - Balthasar van der Ast, Willem van den Bundel, Jacob Pynas was dying out. The survivors - Antony Palamedes, Leonaert Bramer, Cornelis Rietwijck were constantly called upon to become headmen of St. Luke's Guild because there were hardly any qualified younger people left to take their place. The guild had even been obliged to choose Pieter Bronckhorst as headman in 1655 and Willem Ploij in 1656. Bronckhorst was sixty-seven years old, Ploij seventy-two. Guild members for four decades, they had pursued careers of self-effacing mediocrity. It is not so much a credit to Vermeer's precocity as a sign of the decline of Delft as an artistic center that he was elected headman at the age of thirty, in the fall of 1662. He was the youngest artist to become a guild officer since the guild had been reorganized in 1611. Newly-discovered evidence suggests that Vermeer continued to take an active part in the guild after his two-year stint as headman.
Despite its decline, Delft remained an important city of passage that many artists occasionally visited. It contained many fine collections that a local painter could easily have access to. And if he wanted more stimulation, he could always take a seat in an inexpensive horse-towed barge and glide in comfort to The Hague, Amsterdam, Leyden, or Rotterdam, which he would reach in less than a day. All the major towns of Holland were connected through a dense network of canals, along which barges traveled back and forth according to a tightly-ordained schedule. Ease of travel helped to keep the country ideologically and artistically compact.
The artistic traffic was intense both during Delft's heyday as a ville d'art and afterward. Many out-of-town artists left a trace of their presence when they signed as witnesses at a local notary's office. Ter Borch...suddenly appeared in Delft in March 1653, coming from some other undetermined place of residence; Moses van Uyttenbroek and Jan Baptista van Fornenburgh visited from The Hague, Pieter de Grebber from Haarlem. The excellent seascape painter Simon de Vlieger departed for Amsterdam in the late 1630s but delivered tapestry cartoons to the municipality of Delft in 1640 and 1641. Pieter de Hooch, who had also migrated to Amsterdam in the late 1650s, came back for at least one visit in 1663. There must have been other visitors who had other things to do while they were in town rather than witness deeds. It is hard to believe, for instance, that Nicolaes Maes and Samuel van Hoogstraten, who both lived in Dordrecht in the 1650s, did not once stop over in Delft on their way to The Hague or Amsterdam, perhaps to talk shop with Carel Fabritius who, like them, had once been a pupil of Rembrandt or, after Fabritius's death, to fraternize with other member of the artists' community. Maes had anticipated De Hooch's achievements of the 1650s in rendering realistic interior scenes with finely modulated contrasts of light and dark. Van Hoogstraten seems to have been the first to do trompe l'œil paintings. Along with Fabritius he also constructed peep shows in boxes in which illusionistic scenes could be viewed in perspective through a small opening. Two heads (tronien) by Van Hoogstraten were found in Vermeer's death inventory. Vermeer must also have seen the works of Maes, some features of which became part of the visual vocabulary of the Delft School.
from:
John Michael Montias
Vermeer and His Milieu: A Web of Social History
, Princeton, 1989, pp. 171-172
Kees Kaldenbach, The Delft St Luke Guild - how it was run, <http://kalden.home.xs4all.nl/dart/d-b-lucasgild2.htm>
ibid.
John Montias, Artisans and Artist in Delft: A Socio-Economic Study of the Seventeenth-Century, Princeton, 1982
Kees Kaldenbach,<http://kalden.home.xs4all.nl/dart/d-b-lucasgild2.htm>
ibid.
Kees Kaldenbach, COMPLETE BOOK on Vermeer of Delft & the 17th Century city of Delft, <http://kalden.home.xs4all.nl/verm/vermeerbook2.html>
John Montias, Vermeer and His Milieu: A Web of Social History, 1989, p.138
Kees Kaldenbach, St Luke Guild building, <http://kalden.home.xs4all.nl/dart/d-b-lucasgild.htm>