Paintings Acquired from Vermeer During or Soon after the Artist's Death
Cornelezoon de Helt - "painting in a black frame"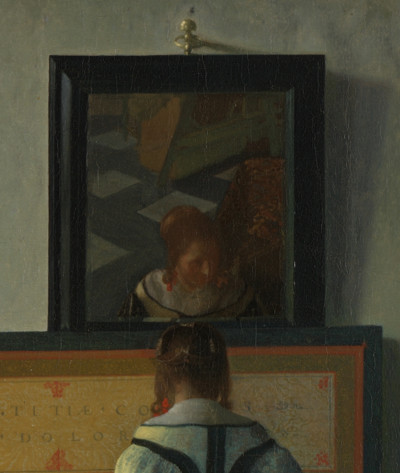 The Music Lesson
(detail)
Johannes Vermeer
c. 1662–1665
Oil on canvas, 73.3 x 64.5 cm.
The Royal Collection
, The Windsor Castle
Little can be deduced from the meager description of the "painting in a black frame" by Vermeer. Vermeer, like many other Dutch painters, used black (ebony or ebonized) frames a few of which hang on the back walls in his own compositions. Ebony frames were also used for mirrors. Dutch frame-makers were known for their ability to imitate costly exotic woods. Incidentally, the husband of Vermeer's sister was a framemaker.