Paintings Acquired from Vermeer During or Soon after the Artist's Death
Johan Larson - "a tronie, by Vermeer"
The sculptor Johan Larson at one time owned a so-called tronie by Vermeer which was valued at 10 guilders in his death inventory. The now defunct term tronie refers to "heads " or "faces" which had become familiar through Rembrandt and his followers. Even though the tronie represented a bust length single figure, it is not a portrait in the true sense. Rather, the tronie presented the artist an opportunity to demonstrate his ability in rendering some exotic costume (turbans, armor), particular lighting conditions or characteristic facial types. Vermeer's Girl in a Red Hat, Girl with a Pearl Earring and Study of a Young Woman can all be considered tronies.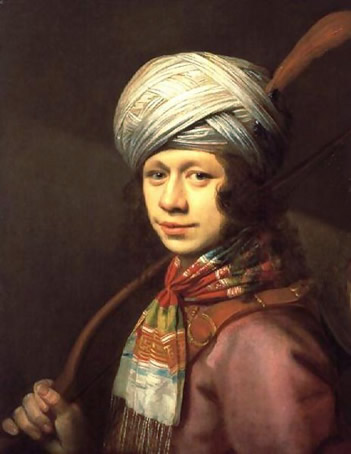 The Young Archer
Willem van Vliet
c. 1640
Oil on canvas, 65 x 57 cm.
Private Collection, New York
The relatively low price of Vermeer's tronie is not surprising - even tronies by very popular Dutch masters, such as Rembrandt, fetched low prices.
John Michael Montias believed that the most likely candidate for the Dissius tronie would be Girl in a Red Hat, due to its miniscule dimensions. He believes that the iconic Girl with a Pearl Earring "would have surely been held in high enough esteem by contemporaries to be valued at more than 10 guilders at the time the Larson inventory was taken in August 1664, precisely one year after De Monconys had been told about the sale of a single-figure painting for six hundred guilders."
Off the three known tronies by Vermeer's hand, it would seem that Girl with a Pearl Earring might appeal most to the tastes of a sculptor. The work's sculptural volume is notable as is the torsion of the girl's head respects to her shoulders.