Best Selling Art Books
By purchasing books via any of the Amazon.com or Amazon.uk links below you will be contributing to the growth and maintenance of Essential Vermeer website, obviously, at no additional cost to your purchase. Thank you very much.
by E.H. Gombrich
1995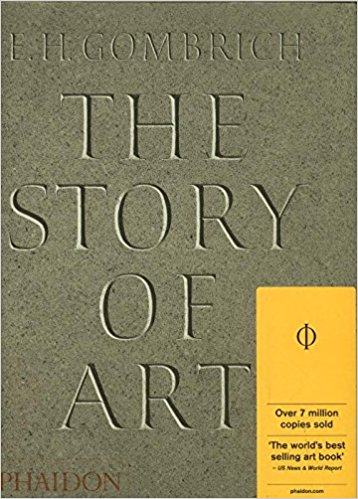 The Story of Art, one of the most famous and popular books on art ever written, has been a world bestseller for over four decades. Attracted by the simplicity and clarity of his writing, readers of all ages and backgrounds have found in Professor Gombrich a true master, and one who combines knowledge and wisdom with a unique gift for communicating his deep love of the subject.
For the first time in many years the book has been completely redesigned. The illustrations, now in colour throughout, have all been improved and reoriginated, and include six fold-outs. The text has been revised and updated where appropriate, and a number of significant new artists have been incorporated. The bibliographies have been expanded and updated, and the maps and charts redrawn.
The Story of Art has always been admired for two key qualities: it is a pleasure to read and a pleasure to handle. In these respects the new edition is true to its much-loved predecessors: the text runs as smoothly as ever and the improved illustrations are always on the page where the reader needs them. In its new edition, this classic work continues its triumphant progress tirelessly for yet another generation, to remain the title of first choice for any newcomer to art or the connoisseur.
by
Ingo F Walther
2001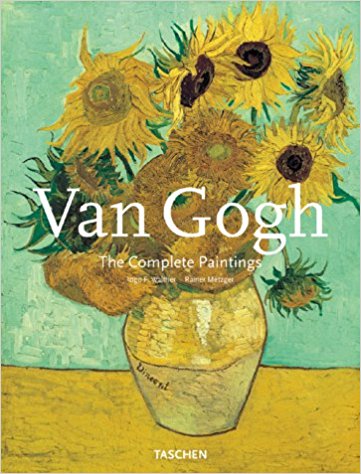 A complete catalogue of the 871 paintings and a detailed monograph on his life and art
This study of Vincent van Gogh represents a rare and happy chance in art history, combining a detailed monograph on his life and art with a complete catalogue of the 871 paintings by one of the greatest modern artists. This volume also reproduces most of van Gogh's paintings in colour for the first time.
by
Don Thompson
2010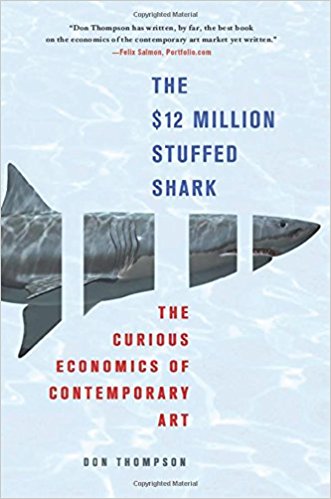 Why would a smart New York investment banker pay $12 million for the decaying, stuffed carcass of a shark? By what alchemy does Jackson Pollock's drip paintingNo. 5, 1948 sell for $140 million?
Intriguing and entertaining, The $12 Million Stuffed Shark is a Freakonomics approach to the economics and psychology of the contemporary art world. Why were record prices achieved at auction for works by 131 contemporary artists in 2006 alone, with astonishing new heights reached in 2007? Don Thompson explores the money, lust and self-aggrandizement of the art world in an attempt to determine what makes a particular work valuable while others are ignored.
This book is the first to look at the economics and the marketing strategies that enable the modern art market to generate such astronomical prices. Drawing on interviews with past and present executives of auction houses and art dealerships, artists and the buyers who move the market, Thompson launches the reader on a journey of discovery through the peculiar world of modern art. Surprising, passionate, gossipy, revelatory, The $12 Million Stuffed Shark reveals a great deal that even experienced auction purchasers do not know.
by Editors of Phaidon Press
2016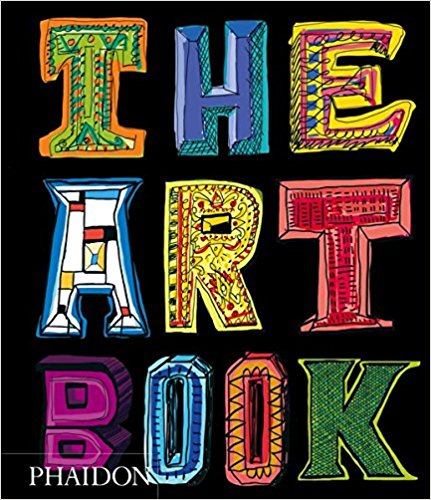 The Art Book is a landmark in the world of publishing. Available in a range of different formats and in over 20 different languages, it has received rave reviews since its first publication and can be frequently found on bestseller lists around the world.
Now available for the first time in a highly covetable and portable midi format, this second edition is an updated and substantially expanded version of the hugely successful original book.
An A-Z guide to 600 great artists from medieval to modern times, it debunks art-historical classifications and pairs brilliant examples of all periods, schools, visions and techniques. By breaking with traditional classifications, The Art Book represents a fresh and original approach to art: an unparalleled visual sourcebook and a celebration of our rich and multifaceted culture.
by
Sarah Thornton
2009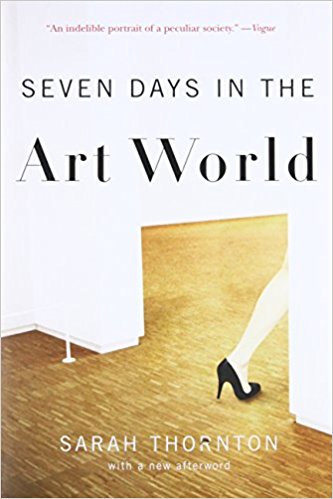 Sarah Thornton's vivid ethnography―an international hit, now available in twenty translations―reveals the inner workings of the sophisticated subcultures that make up the contemporary art world. In a series of day-in-the-life narratives set in New York, Los Angeles, London, Basel, Venice and Tokyo, Seven Days in the Art World explores the dynamics of creativity, taste, status, money and the search for meaning in life.
by
Nigel Ritchie
2008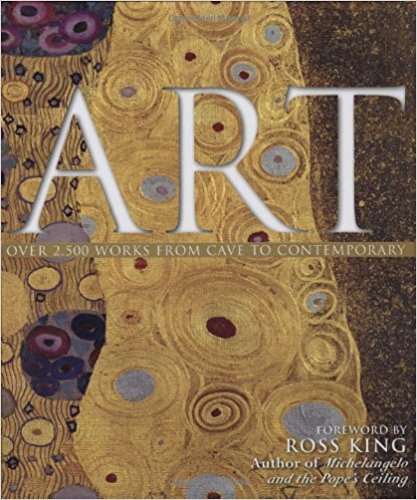 The definitive visual guide to over 2,500 paintings and sculptures from around the world, from prehistory to the 21st century. Accessible, engaging and thoroughly comprehensive, Art shows you how to look at—and understand—works of art, before guiding you chronologically through the milestones of art history.
The book opens with a short section detailing how artists use color, composition, light and shade, perspective and different media to bring their ideas to fruition. Graphics and overlays explain the simple steps required to analyze, and inform your enjoyment of, any work of art.
Each artistic movement—from the Italian Renaissance to Impressionism and Pop Art—is clearly explained, alongside its origins and influences, styles and techniques, and typical subject matter. A visual timeline of key works gives an overview of the scope of each major movement.
More than 700 artists from all periods and cultures—Western and non-Western, right up to the present day—are profiled alongside key examples of their work. Picture-packed pages help you to identify the characteristics of each artist's work, and follow how it changed through his or her lifetime. Contextual information deepens your understanding of artists' work, life and times.
From Leonardo da Vinci's The Last Supper to Francis Bacon's Screaming Pope, 22 key works are analyzed at full-page size in terms of composition, story and techniques. What the artists did to create each work—and how—is revealed with the help of graphics, overlays and detailed close-ups. Never before has it been so easy to understand artistic aims and methods.
Interspersed through the book, double-page features show how different artists have approached the same popular themes. Covering subjects as diverse as love, war, work and children, these beautiful galleries show how attitudes, styles and techniques change from one era and culture to another.
More than 2,500 works of art are reproduced in Art's stunning chronological catalog. Collaborating with Bridgeman Art Library, the world's most comprehensive source of culture and historical art images, Art brings the world's best images into your home.
M.C. Escher was born in 1898 in Leeuwarden (Netherlands). He received his first drawing lessons during secondary school from F.W. van der Haagen, who also taught him the block printing, thus fostering Escher's innate graphic talents.
From 1912 to 1922 he studied at the School of Architecture and Ornamental Design in Haarlem, where he was instructed in graphic techniques by S. Jessurun de Mesquita, who greatly influenced Escher's further artistic development. Between 1922 and 1934 the artist lived and worked in Italy. Afterwards Escher spent two years in Switzerland and five in Brussels before finally moving back to Barn in Holland, where he died in 1972.
M.C. Escher is not a surrealist drawing us into his dream world, but an architect of perfectly impossible worlds who presents the structurally unthinkable as though it were a law of nature. The resulting dimensional and perspectival illusions bring us into confrontation with the limitations of our sensory perception.
amazon.com
by
Robert Hughes
2004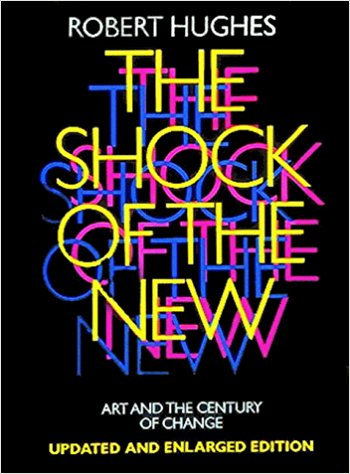 This legendary book has been universally hailed as the best, the most readable and the most provocative account of modern art ever written.
Through each of the thematic chapters Hughes keeps his story grounded in the history of the 20th century, demonstrating how modernism sought to describe the experience of that era and showing how for many key art movements this was a task of vital importance.
The way in which Hughes brings that vitality and immediacy back through the well-chosen example and well-turned phrase is the heart of this book's success.
Discover what makes a piece a significant work of art and tour history's greatest masterpieces. See the master works of Pablo Picasso, Vincent van Gogh, Claude Monet, and more.
From prehistoric cave paintings to postmodern art, The Art Book explores more than 100 different movements, periods and works throughout history, including ancient Assyrian sculpture and contemporary Japanese multimedia works. Art's theories and themes are more approachable and easier to understand through innovative graphics and creative typography.
Part of DK's award-winning Big Ideas Simply Explained series, The Art Book profiling more than 100 artists and 200 pieces of work, and covers paintings, drawing, sculptures, ready-mades, land art, installations and more. Follow how art changed in the Medieval world to the 18th century to the modern age. Study famous pieces of art including Venus of Willendorf, The Book of Kells, and Rembrandt's Self-Portrait. Learn the differences between Paul Cézanne, Henri Matisse, and Roy Lichtenstein.
With stunning images and graphics, clear writing, an artist directory, and a vocabulary glossary, The Art Book is the perfect introduction to the complex and exciting world of art.
by
H.W. Janson
The most thorough, cogent and lavishly illustrated survey of art in the Western tradition, Janson's History of Art has now been completely redesigned and updated to make it the ultimate visually and intellectually exciting resource for today. Timelines; glossary; bibliography; index. 1,266 illustrations, more than 775 in full color.
by
Deborah Heiligman
2017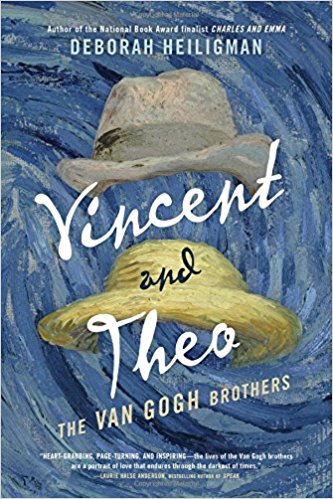 The deep and enduring friendship between Vincent and Theo Van Gogh shaped both brothers' lives. Confidant, champion, sympathizer, friend―Theo supported Vincent as he struggled to find his path in life. They shared everything, swapping stories of lovers and friends, successes and disappointments, dreams and ambitions. Meticulously researched, drawing on the 658 letters Vincent wrote to Theo during his lifetime, Deborah Heiligman weaves a tale of two lives intertwined and the extraordinary love of the Van Gogh brothers.