About the Essential Vermeer
Technically speaking, in 13 years the Essential Vermeer has grown from a simple one-page list of Vermeer-related websites and publications to the most exhaustive site dedicated to an individual artist on the internet. It now features over 6,000 web objects: 500-plus web pages, thousands of links, 3,000+ images, hundreds of audio files and innovative interactive studies including the complete, online catalogue of Vermeer's painting.
In 2002, the first year online, Essential Vermeer received 17,547 visitors. In 2014, the number has grown to 753,236 unique visitors and 1,986,790 pages views.
Google web stats for unique visitors to the Essential Vermeer as of 2008 to the end of 2014.
More importantly, the Essential Vermeer has become a place where I have done my best to present an organic and objective overview of Vermeer's art, life and times, a place where both Vermeer newcomers and longtime Vermeer enthusiasts can find food for thought and the information they require—efficiently.
It has become a place where information on all the latest exhibitions, conferences and publications about Vermeer can be comfortably located, any time, day or night. And it is also becoming a bridge towards to the most recent developments in world-wide Vermeer scholarship.
Maintaining objectivity and the highest degree of historical accuracy is fundamental. Since I am a painter by profession, I have limited my personal considerations to the more technical aspects of Vermeer's paintings: after all, 's where I really feel at home.
I hope that my readers will not shy away from sharing with me their thoughts and feelings about any aspect of the content, format and direction of Essential Vermeer. The readers the Essential Vermeer's are my most valuable resource.
Looking forward to hearing from you soon!
Jonathan Janson
jonathanjanson@essentialvermeer.com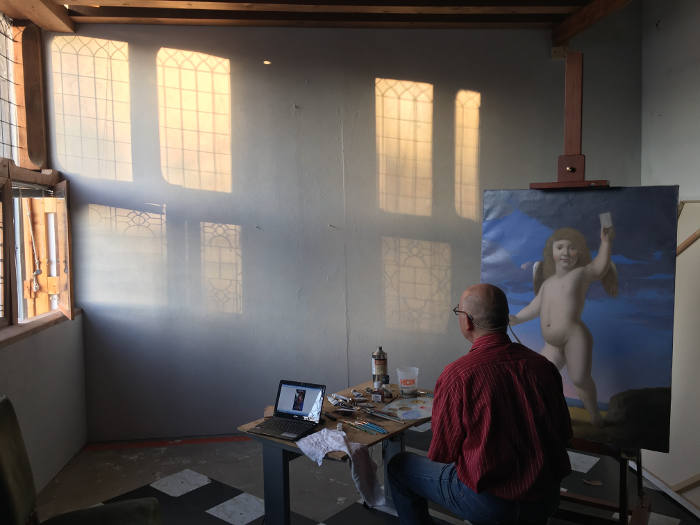 Jonathan Janson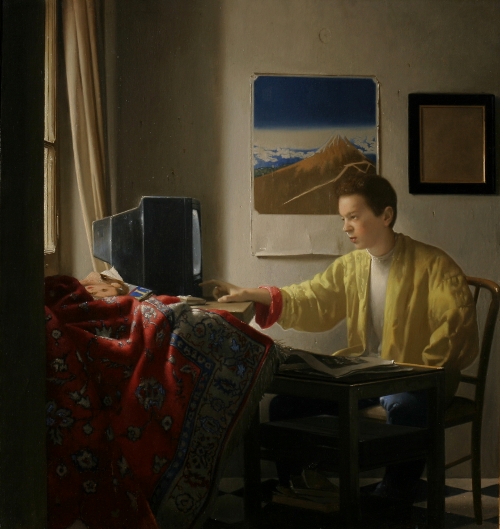 Young Man Turning on a TV
by Jonathan Janson
Oil on canvas, 21 x 21 inches
2008–2010