The All Vermeers in the World Travel Companion
As Vermeer's iconic stature rises with each new year, special temporary exhibitions, which bring a number of the artist's paintings together more frequently than ever, may easily become major cultural events. While such exhibitions can be particularly rewarding experience for those who do not live near of the collections where the Vermeer paintings are permanently housed, they run the risk of generating drawbacks so pressing that their advantages can be almost entirely outweighed. Ticketing, queues and crowded galleries can factually diminish or even entirely inhibit a meaningful intellectual inquiry or the all-essential emotional experience.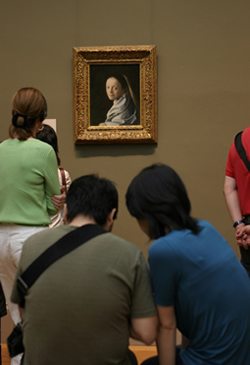 For example, even though I was fortunate to visit the 1994 Washington venue of the famed Vermeer exhibition with 21 authentic works by Vermeer, the actual museum experience yielded more frustrations than satisfactions and I do not remember fondly the hours spent struggling with fellow viewers to gain a brief glimpse of many of the pictures. For Vermeer created his paintings not as objects to be displayed during mass cultural events, but for private contemplation by one or two viewers within the hushed intimacy of a Dutch household.
For this reason, the optimal viewing experience is rarely during the crowded special exhibition where one might find ten or more people jockey to catch a glimpse of a miniscule painting like The Lacemaker. More rewarding experiences can generally be had in the collections where Vermeer's paintings are permanently housed even though it should be kept in mind that this may be hardly the case for the great museums during tourist season. For this reason most will have to undertake some kind of trip to finally be able engage a real Vermeer face to face that he had only know from reproductions.
As the author of Essential Vermeer one of the most common emails I receive is from people who have made it one of their life-quests to see "all the Vermeers." A few travel as couples, a few keep me informed of their progress. For these reasons, I thought that it could be useful to create a travel guide for all those who would like to make seeing all the Vermeer's a similar quest and at least provide useful information on the ins and outs of Vermeer traveling.
How you Can Help
Although the great part of those who wish to see a real Vermeer must undertake serious traveling, the up side is the that Vermeer's paintings are dispersed in two continents and only eleven cities making he logistics involved relatively simple if travel plans are determined beforehand. The All the Vermeers Travel Companion aspires to become a collaborative effort that pools many individual's experiences and create a guide to the most efficient, economic and enjoyable trip for those travelers who wish to see Vermeer paintings in the world.
I enthusiastically encourage anyone with a good idea to contribute their opinions and suggestions to make this the best travel companion possible. Information regarding any aspect of the trip will be warmly welcomed, especially suggestions based on one's own real-life experiences.
First Steps: Essential Vermeer Travel Checklist
There are 35 (37?) authentic Vermeer paintings known today distributed between two continents: (North) America and Europe.
If you are traveling specifically to view one or more paintings by Vermeer, consult the index of the EV Complete Vermeer Catalogue to determine where the work is permanently housed or temporarily on display. Then consult this travel guide to get all the information you will need about the cities you will be visiting.
Once you have firmed up your travel plans, contact the museum to confirm that the painting(s) you intend to see are on display and that no changes in opening schedule or special holidays are expected during the period you will be visiting.
Remember, special Vermeer exhibitions or special exhibitions with one or more works by Vermeer may be major cultural events. In this event, crowds should be expected that may make viewing and ticketing conditions particularly problematic. Details of upcoming special events and exhibitions related to Vermeer's art can be consulted by clicking here.
Vermeer Paintings Travel Too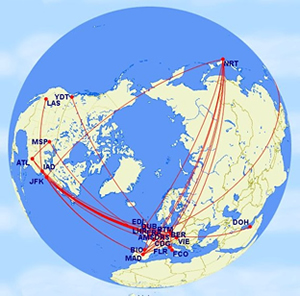 Since the stellar rise of Vermeer's name in the twentieth century, many of the artist's paintings have trekked all over the globe. While these sorties are aimed at increasing public awareness and appreciation of Vermeer's art, a significant number of specialist believe that the risks inherent in such lengthy travels expose the paintings to structural stress that can compromise their fragile structure as well as the unforeseeable dangers of long distance flights. Moreover, large scale exhibitions are vital for the museums prosperity and thus they are normally reluctant to publicly air problems resulting from loans to other institutions.
The map to the left shows all the travels that Vermeer's paintings will have made from 2003 to 2012 racking up about 300,000 miles of air flight. Some have traveled the same route more than once.
Most of the flight miles were over the Atlantic Ocean or Siberia. The circumference of the earth is 24,901.55 miles while an average trip to the moon is 238,857 miles.
Vermeer is known to have made only a single trip to Amsterdam late in his life, about 41 miles as the crow flies from his hometown Delft.