The Carillon: How it Works
(part two)
To understand the art of the carillon we must know something about both its complex structure and how it is constructed. For this we shall first have a look at the shape and acoustics of a single bell, and afterwards, the structure and technique of the carillon, including the two principal playing techniques.
Compared to modern standards, the early carillons were primitive constructions. Bells were uneven in quality and the musical effect they were able to produce was greatly inhibited by crude playing actions. Evidence suggests that the technical skills of early founders were far from uniform. However, those engaged in this enterprise were eventually able to earn international reputations as master craftsmen.
Shape and Acoustics
The shape of a true bell is derived from two basic forms: the cup and the hollow sphere. The cup form or "open" bell is more common and is used in a great variety of profiles for almost all kinds of Western European tower bells. The sides of this form flare out from the top slightly for two-thirds of their length and then more rapidly towards the bottom.
The hollow sphere form or "closed bell" is of the same ancient origin and appears in as many varieties of shape as the open bell. The bell's sound it produced by a loose pellet enclosed inside. A representative example of the closed bell is the sleighbell (French: grelot, German: Schlittenglocke).
The closed bell is far more complex acoustically than any other vibrating body intended for musical purposes, and its manufacture presents daunting challenges. The shape of a common open bell consists of a head or "vertex," shoulders, waist, the "sound bow," the "lip" or rim as the lower edge and the open "mouth." With the increase in flare at the outside there is also an increase of the thickness of the bell's wall. The maximum thickness occur near the rim where the clapper or hammer strikes the bell, called the sound bow.
The device which serves to attach or suspend the bell is normally a loop or crossed loops ("crown") at the vertex, although in many modern bells it is simply a bolt hole. The sound is produced either by the clapper (usually a rod with a knob) that strikes the sound bow from inside (mainly used by the keyboard for manual playing or by swinging the bell), or with a hammer, striking on the outside (used by the automatic clock chime mechanism). The hammer is usually permanently affixed close to the bell and is activated by remote control. This all means that the carillon bells do not move in performance.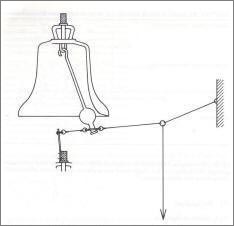 Graphic of a bell with the clapper inside and a "broek"- or breech connection for the baton keyboard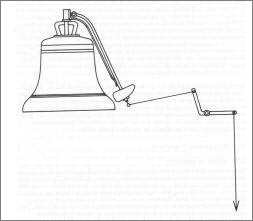 Bell with a hammer at the outside, connected with a "tuimelaar" or tumbler for the automatic playing