Vermeer's Neighborhood
(part two)
Mechelen
In 1641, on April 23, Vermeer's father, Reynier Jansz. Vos, bought the large and heavily mortgaged Mechelen inn (right a.) on Market Square at the corner with the Oude Manhuissteeg. He paid 200 guilders in cash and assumed two mortgages for the total value of 2,500 guilders. Mechelen had six fireplaces which tells us something of its size, the largest construction of the Markt. Like all the neighboring houses, the front side faced the Market Square and the backside plunged straight down into the Voldersgracht canal. The narrow Old Man's Alley ran alongside to a bridge over the canal behind (right b.). Mechelen was demolished in 1885 to make way for fire-prevention equipment.
The Mechelen Inn was the bustling heart of the town. Its location, with the town hall on one side and the Nieuwe Kerk on the other side. It was an ideal meeting place for discussions and exchanging news and archives show that many Delft artists also used to meet here for shop-talk.

The illustration above is a composite of a photograph taken
of the Market where Mechelen one stood and the
historic engraving which shows Mechelen (see image right)
On the occasion of Vermeer's wedding in 1653, the address registered was the house Mechelen where his father carried on various trades, the register also notes that his future wife, Catharina Bolnes, "lived there too." John Michael Montias maintains that it is highly unlikely that Catharina Bolnes, who, on her mothers side was from a devout Catholic family, would have actually lived with Vermeer in Mechelen before her marriage. Montias believes the clerk must have made an error. However, it has been recently advanced the idea that Catharina had gone to live with Vermeer thus forcing Catharina's mother, Maria Thins, to accept de facto of their sentimental relationship.
click here
Mechelen
Sint-Lucasgilde
Het Straatje
Papenhoek
Stadhuis
mp3 audio files courtesy marco schuffelen
Judging from contemporary engravings Mechelen must have been a rather large house which certainly afforded ample space for the public-house business downstairs, for the trade in works of art and for the workshop for the "caffa" finishing. Vermeer's father was registered at the Guild of Saint Luke as an art dealer and was also known to have worked in "caffa," a fabric similar to satin which was largely used for upholstery, clothes and curtains.
Inn-keeping and art dealing often went hand in hand. In these circumstances, it is obvious that the young Vermeer was exposed to the many paintings that adorned the walls of the inn as well as a chance to encounter artists and artisans who no doubt frequented the locale. Local Delft artists Evert van Aelst, Egbert van der Poel, and Leonaert Bramer must have been familiar faces. Mechelen was also spacious enough to contain Vermeer's wife when she moved in.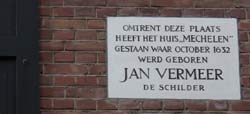 Mechelen no longer exists even though there is an erroneous commemorative plaque on the side on the building which was adjacent to it. Today, the alley is wider. The only image of the facade of Mechelen dates from an engraving of the early eighteenth century by Leonard Schrenk (above right a.). Sometime between 1653 and 1660 Vermeer and his wife moved out of Mechelen to his mother-in-law's larger patrician residence on the other side of the Market Square. But Mechelen was still occupied by Vermeer's widowed mother until 1670, when she died and he inherited the property. Vermeer may have helped his aged mother run the inn, a taxing chore for even the healthiest of women, before he gave it up. Payments for Mechelen were still being made when Reynier's widow tried to sell it at auction in1669. In 1672 Vermeer lets Mechelen while he was living with his mother-in-law.
Both P.T.A. Swillens (Dutch historian and author of Vermeer: 1632–1675, 1950) and Philip Steadman believe that Vermeer painted directly from a rear window of Mechelen his Little Street.
"In 1955 a memorial tablet was placed on the wall of the adjoining house at number 52 the Markt, to mark the spot where Mechelen House once stood. The Delft sculptor Joh. Bijsterveld made the memorial tablet, which bears the following inscription: 'Here stood Mechelen House where the artist Jan Vermeer was born in 1632." This contains two mistakes. Vermeer was not born in Mechelen, as his parents moved there when he was already nine years old. The name Jan is not entirely correct either. Vermeer never used the name himself, He always signed deeds with Joannes, Joannis or Johannis. Criticism was heard on all sides in 1955, but the foundation 'Delft binnen de veste' (Delft within the ramparts) which devised the inscription, decided that the Christian name Jan had become more familiar."1