The School of Delft: Carel Fabritius & Paulus Potter
Carel Fabritius
baptized 27 February, 1622–died 12 October, 1654
active in Delft c. 1650–1654
In his youth, Carel Fabritius worked as a carpenter (his name Fabritius may have been derived from the Latin "faber" from this profession). In the early 1640s, he became an apprentice to the great Rembrandt van Rijn in Amsterdam. By 1650, he was living in Delft, where, in 1652, he joined the Guild of St Luke. Vermeer's art has been connected to that of Fabritius for stylistic affinities and to a poem by the Delft publisher Arnold Bon printed in Dirk van Bleyswijck's Beschryvinge der stad Delft (A Description of Delft, 1689) which laments Fabritius' death in the infamous Delft thunderclap but rejoices Vermeer's "rise. "
Thus did this Phoenix, to our loss, expire,
In the midst, and at the height of his career,
But fortunately there arose from his fire,
VERMEER who masterfully trod his path.
Although early art historians interpreted the four ambiguous lines of Bon's laudatory poem as evidence that Vermeer had studied with Fabritius, it is highly unlikely he did so. Fabritius joined the Delft guild only fourteen months before Vermeer and there is no trace of the manner of Fabritius in Vermeer's work until a few years after the death of Fabritius. Documents indicate that Fabritius had been active as a portraitist from the late 1640s until his untimely death.
The reputation of Fabritius in his own time was considerable. Van Bleyswijck wrote he was "an excellent and outstanding painter who was so skilled and unerring in the manner of 'perspectives' as well as naturalistic coloring and the handling of his paint that (in the opinion of many connoisseurs of art) he never had an equal." Taking to heart Rembrandt's dictum, "follow nature," Fabritius experimented with a variety of innovative formats in his attempts to create the most vivid an illusion of reality possible. He made trompe-l'œil wall paintings that amazed Delft art lovers for making "a small room seem very large…bonding beautifully with the place for which they are made." He also did some sort of murals (the owner described them as being "nailed fast" to the wall) in the Delft brewery called "The World Upside Down." None of Fabritius' wall paintings have survived. Another document refers to a "piece by Fabritius being in a case [or box]," although it is not clear whether the object was a perspective box (also called a "peepshow," like those made by Samuel van Hoogstraten), or a picture housed in a small box with doors on the front. Such boxes were occasionally used to shield particularly precious paintings from dust and, perhaps, surprise the viewer when the doors were opened to expose the illusionist picture within.
In Delft, the style of Fabritius changed dramatically, but since few works from the years immediately preceding his arrival have survived, there is no way of knowing what may have motivated him to change artistic course. It is likewise impossible to evaluate exactly what impact he had on his colleagues since a sizable part of his work perished with him in the Delft Thunderclap—only four paintings survive from his Delft period. The art historian and de Hooch expert Peter Sutton warns that the artist's reputation as the "fountainhead" of the School of Delft rests largely upon the presumed qualities of paintings. "His achievements," writes Sutton, "were brilliant, but not isolated."1
Although the art historian Christopher Brown likewise cautions against designating Fabritius as "an essential catalyst" of the School of Delft, he holds that the artist was not merely an "isolated figure, a brilliant, experimental artist." "A common interest in daylight effects and in the expressive possibilities of the use of space [in Delft painting] may seem a vague, even evasive, way in which to define Fabritius' relationship with his contemporaries, but the relationship was a real one and it was in these essentially technical matters that it resided."2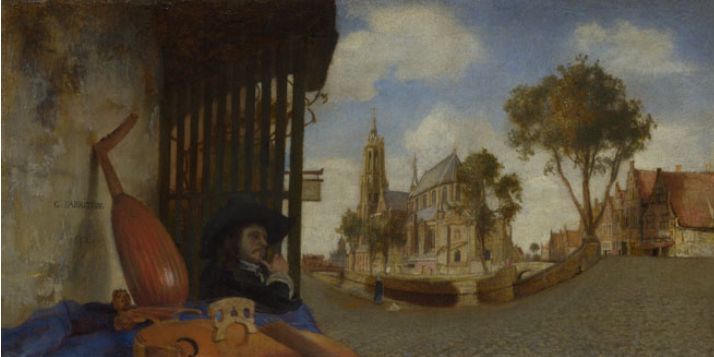 View of Delft
Carel Fabritius
Oil on canvas, 15.5 x 31.7 cm.
National Gallery, London
Fabritius' reputation as a master of perspective has induced some art historians to speculate that he was responsible for stimulating Gerard Houckgeest's and Emanuel de Witte's experiments in architectural painting. However, Houckgeest had been painting church interiors with elaborate perspectives for many years.
Three genre paintings made by Fabritius while he lived in Delft have survived: the View of Delft (see image above), The Goldfinch (see image below) and The Sentry. Each one of them displays an extraordinary clear light and atmospheric tone which break from Rembrandt's heavy chiaroscuro modeling adopted by Fabritius in his earlier large-scale Biblical paintings.
The View of Delft, a tiny picture which measures a mere 15.4 x 31.6 cm., is an anamorphic, wide-angled view which shows a music stall in the foreground and the Nieuwe Kerk of Delft and a side street in the background on a luminous Delft afternoon. In the foreground, a brooding street merchant sits behind his wares, a lute and a bass viol. The painting was probably made to be viewed in a cylindrical perspective box, where its evident distortions, seen through a single peephole, would disappear. It is considered the first street view to have been painted in Delft. The painting was made in 1652, less than two years after the son of Willem the Silent, Prince Willem II, had died and been buried in Delft's Nieuwe Kerk, the church at the center of the painting. It has been speculated that the painting was somehow connected to Willem II's early death.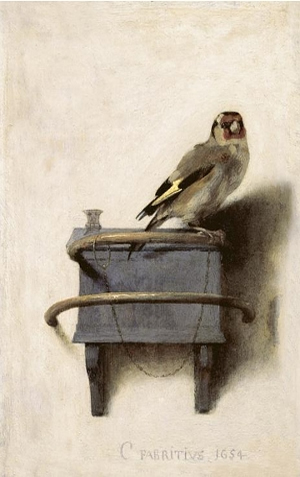 The Goldfinch
Carel Fabritius
1654
Oil on panel, 33.5 x 22.8 cm.
Mauritshuis, The Hague
The two genre pieces, The Goldfinch and The Sentry, display unconventional, light gray backgrounds that many critics believe inspired Vermeer's and de Hooch's white-washed walls (see Vermeer's Woman with a Pearl Necklace). In 1675, several of Fabritius' paintings—Vermeer, like many other painters of the time, dealt in the sale of works of his colleagues as well as his own—were listed in an inventory of mobile goods compiled after Vermeer's death.
The panel features an unpretentious goldfinch tethered by a delicate metal chain set against a rough white washed wall. The painting, one of his most eloquent and powerful works despite in its simplicity and small dimensions, may have inspired other works by Dutch still life painters. But Fabritius' picture is no still life. A series of quick brush strokes evoke the pet's downy body, which seems alive. Ready to flit away in an instant if not mercilessly chained in order to divert people passing by.
By comparison, Jan Baptist Weenix's use of the motif of a dead partridge appears lost in minute details. Since Fabritius' small panel has mitered corners and nail holes on its vertical edges, some scholars have argued that the panel may once have been a door on a wooden box or case that encased another painting behind it.
The works of Fabritius feature dazzling brushwork and paint applications which range from the thinnest veils of pigment to crusty white impasto, a legacy of Rembrandt. His brushwork is delicate and precise without being linear, his contours, subtly blurred. Judging from his few surviving paintings, he also possessed an acute sense of how the tone and texture of paint affects spatial reading.3
Fabritius died a young man of 32 on 12 October, 1654 when thirty tons of gunpowder, stored in barrels in a magazine in a former Delft convent, were ignited when a keeper opened the store for inspection. The Delft Thunderclap, as it was called, destroyed a quarter of the city. The artist's studio and many of his paintings, were demolished. Fabritius perished along with his student Mattias Spoors and a church deacon, Simon Decker, who were working together with him on a painting at the time.
Despite his exceedingly small oeuvre, Fabritius holds his own among the most illustrious painters of seventeenth-century Holland. Of the twelve or so surviving pictures attributed to him, eight may be considered masterpieces.
Paulus Potter
born 1625, died 1654 Amsterdam
active in Delft from 1646 (or earlier)–1649?
Paulus Potter was a precocious artist. His earliest works date from 1640, when he would have been 15 years old. Few details are known about his life.
Potter was one of the first artists to paint "portraits" of animals, not just backdrops for human action. He entered Delft's Guild of Saint Luke in 1646 and later moved to The Hague, where he resided next to the successful landscape painter Jan van Goyen. Potter's success in The Hague laid in his ability to represent his idealized view of country life in a hitherto unseen naturalist mode.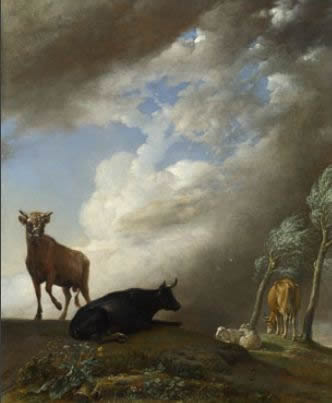 Cattle and Sheep in a Stormy Landscape
Paulus Potter
1647
Oil on oak, 46.3 x 37.8 cm.
National Gallery, London
It is said that Potter wandered the Dutch countryside, sketchbook in hand, noting how farm animals behave at different times of day and the nuances of light from morning to dusk. Few of his contemporaries were more attuned to nature's moods or to the timeless harmony of beast, landscape and weather. Although Potter was no doubt familiar with landscape tradition, he introduced a cooler, silvery tonality in his works of the late 1640s. He sometimes grouped the foreground figures together in a shadow creating a silhouette effect which stands out suggestively against the atmospheric background landscape. Potter may be compared with Vermeer in this respect: he would learn a great deal from other painters, see what they had seen, and then look again at nature, judging for himself.4
Although Potter was the most talented landscape painter ever to work in Delft, other landscapists in the first half of the century who also worked in Delft were Jacob van Geel, Willem van den Bundel, and Pieter Groenewegen (one of Groenewegen's works appears in the background of Vermeer's Guitar Player). Despite the small size of many of his compositions, Potter was able to confer an impression of monumentality even if his primary subjects were humble farm animals.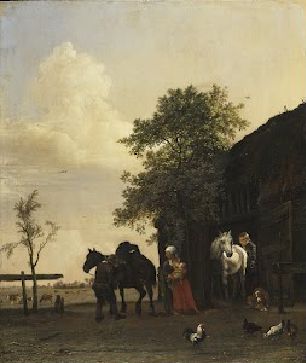 Figures with Horses by a Stable
Paulus Potter
1647
Oil on panel, 45 x 38 cm.
Museum of Art, Philadelphia
The widely held notion that Potter was a catalyst of the School of Delft dates back to Max Eisler's classic volume on painting in Delft, Alt-Delft (1923). Art historian Peter Sutton argues that "many of the characteristics we associate with 'Delft' painting—the informal naturalism, monumental repose and vertical painting format—are already evident in a work like Two Cows and a Bull of 1647, the way in which Potter places the animals against the brilliant blankness of a summer sky differs little from the practice of later Delft genre painters who set their figures against light-colored walls. Above all, it is Potter's sensitivity to the workings of natural light, to its silvery tonality and contre-jour effects, which marks him as an important precursor of De Hooch and his Delft colleagues."5 On the other hand, Walter Liedtke maintains that this is "quite a tall order for an artist" seeing that not only was the artist only twenty-five at the time (in 1650) but that the older Delft masters Van der Ast, Bramer, Palamedesz and Van Velsen had also created "convincing effects of space and light."6
The famous Dr. Nicolas Tulp, who spotted the young Rembrandt van Rijn's genius twenty years earlier, was impressed by Potter's civilized behavior and politeness. In 1652, he persuaded Potter to move to Amsterdam where he became Potter's mentor. In the 1800s, Potter's life-size The Young Bull was as famous as Rembrandt's Night Watch. Potter's etchings show the same sensitivity as his oils. By the time Potter died of tuberculosis at 28, he had profoundly influenced the way animals are depicted in European art.
Peter C. Sutton, Pieter De Hoogh: Complete Edition, Oxford: Oxford University Press, 1980, 18.
Christopher Brown, Carel Fabritius: Complete Edition, Cornell University Press, Ithaca, 1981.
Peter C. Sutton, Pieter De Hoogh: Complete Edition, Oxford: Oxford University Press, 1980, 18.
Peter C. Sutton, Pieter De Hoogh: Complete Edition, Oxford: Oxford University Press, 1980, 17.
Walter A. Liedtke ed., exh. cat. Vermeer and the Delft School, ed. Walter Liedtke ed., New York: Metropolitan Museum of Art, 2001, 88.