Details of Vermeer's Painting Technique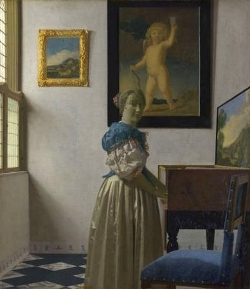 A Lady Standing at a Virginal
Johannes Vermeer
c. 1670–1674
Oil on canvas, 51.7 x 45.2 cm.
National Gallery
, London
Painterly Skill and "Nonsemantic" Marks
Whether one is attracted or repelled by some of Vermeer's heavily mannered late pictures, the level of technical knowledge and manipulative skill need to paint them is exceptionally elevated.
For example, those who do not posses substantial painting experience will fail to apprehend that the variety of shape, tone, focus, brushing and translucency of the scores of the "nonsemantic marks"1 of the gilt frame in the Lady Standing at the Virginal can be achieved only when the painter has overcome the dictates of human anatomy after years of training.
Instead, the unskilled painter is constrained by anatomy to a very limited range of marks which can be immediately recognized.2 No two marks are identical. Each behaves in a subtly different manner. Some marks appear to hover ever-so slightly above the surface of the canvas while others seem to sink in behind other paint layers. Some seem to hint at the subtle leaf motif of the frame's molding while others seem to be passionless records of reflected light, garnered, perhaps, from the dim screen of a camera obscura. Some stand off at a discrete distance from their neighbors, seeming to call attention upon themselves as microscopic epigrams, while others pile up on each other congealing into a rich pictorial structure that is aesthetically stimulating in itself and at the same time evocative of something it is not: gold leaf struck by immaterial light. The result of what at the close range of observation appears to be pointillist anarchy, at normal viewing distance suggest with uncanny accuracy the direction and intensity of the natural daylight as it skims across the shiny surface of the elaborately molded gilt frame.3
As the art historian James Elkins noted, "From the fifteenth century onward, some marks in painting were made just for the pleasure of marking, and not for their illusionistic payoff." These marks were termed "nonsemantic" by the art historian, Whitney Davis.
James Elkins first pointed the difficulty in making different marks, but in regards to the works of Claude Monet.
Whether or not Vermeer ascribed to this idiosyncratic manner of creating pictorial illusion a secondary meaning cannot be known.