Details of Vermeer's Painting Technique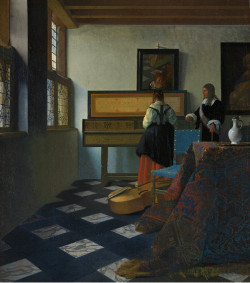 The Music Lesson
Johannes Vermeer
c. 1662–1665
Oil on canvas, 73.3 x 64.5 cm.
The Royal Collection
, The Windsor Castle
Planning
Vermeer's paintings are essentially pre-planned projects whose complicated construction follows an established but not exceedingly rigid itinerary. The success of each project is the consequence of the proper execution and integration of each successive step into the overall guiding plan. The rationale behind this system was that, unlike today, painters addressed separately the problems of composition, form and color . This step-by-step system, far from stifling artistic inspiration, allowed the most talented painters to "program" complicated masterworks of exceptional artistic level (and sometimes in considerable numbers and vast dimensions) while less-talented artists fashioned dignified, well-crafted paintings. As the art historian Ernst van de Wetering pointed out, the work of art of a Great Master may be likened to a game of chess, in which many moves have to be considered in advance and which a remarkable combination of calculation and creativity is required if the final outcome is to be a success.1
Spontaneity, almost completely confined to the depictions of detail, is not an integral or even noticeable component of Vermeer's mature art as it was in Rembrandt's. Once Vermeer had established the theme and basic composition, most likely, he had a clear idea of how a painting would appear when finished. Refinements in color, composition and contour would follow during the many work sessions, but the fundamental composition of each painting was respected in every one of his interiors. No important figures were either added or subtracted. Almost miraculously, in The Art of Painting, Vermeer's most elaborate composition, laboratory analysis demonstrates the artist made only very minor alterations in the course of the painting process.
And yet, Vermeer's images do not tire, nor do they betray method or tedious labor that plagues the complicated works of his close colleagues like Gerrit Dou and Frans van Mieris. The images of Vermeer's paintings seem to appear to the veiwer as whole, a single, instantaneous and complete vision rather than a picayune inventory of many parts.
However, the experience of Vermeer's paintings cannot be described only in optical or painterly terms. While Rembrandt's art is founded on the intuitive identification with the spontaneous movements of the brush, bodily experience in Vermeer's painting is created by a definition of volume and spatial depth. In front of the Music Lesson, it is hard not to register the cavernous depth, the emptiness of space which fills the room, and the tiles which skim under our feet towards the background wall. Vermeer's carefully planned interiors evoke a sensation of "thereness," of being in front of something very real. The pure white jug perched on a Turkish carpet not only an exception vision of pure white paint and radiant light, it conveys volume, weight, a glossy chill of glazed ceramic and pleasant roundness of its spherical belly.