Details of Vermeer's Painting Technique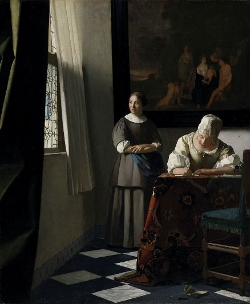 Lady Writing a Letter with her Maid
Johannes Vermeer
c. 1670–1671
Oil on canvas, 71.1 x 58.4 cm.
National Gallery of Ireland
, Dublin
Abstraction
As Vermeer's mastery of painting technique progressively increased into the final years of his career, his stylistic concerns shifted from the faithful recording of reality's appearances to the representation of a purified vision of the world in which his own pictorial instinct became a visible component. No detail can represent the departure from the former naturalistic vision more than the rendering of the candid starched linen sleeve of the mistress in the late Woman Writing a letter with her Maid.
If this peculiar passage is isolated from its context, the viewer is at odds to understand just what is being represented. Vermeer's painting technique has reached an extreme of economy: paint layers are meager in substance and tonal values have been reduce a paltry few. In various parts of the composition, the brownish underpainting appears through thinly painted shadows.
The bizarre mosaic of flat shapes, carved with knife-like precision, stand in the place of what once were the folds of satin and starched white cotton, and have undergone such a severe process of abstraction that the sense of natural continuity is entirely lost.
Nonetheless, the marks and patterns left by the brush are so convincing that, although we may question the identity of what has been represented, we are never able to question its authenticity.