Frans Hals
The Merry Drinker
1628–1630
Oil on canvas, 81 x 66.5 cm.
Rijksmuseum, Amsterdam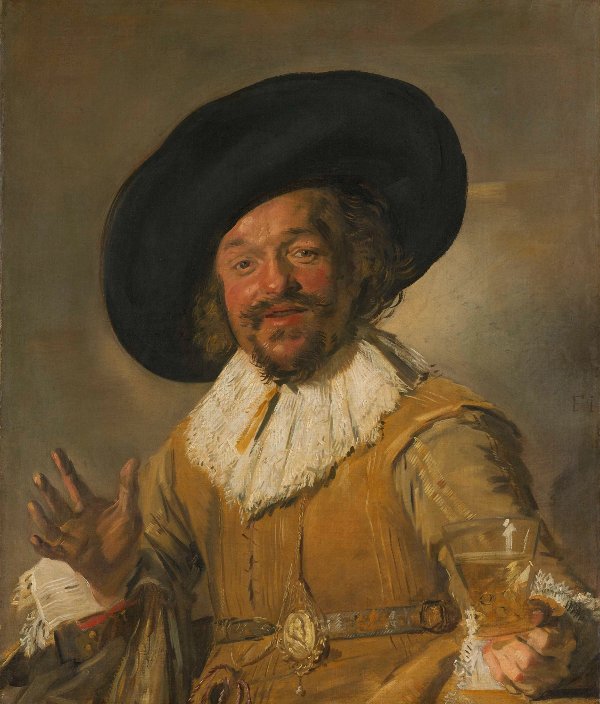 Frans HALS
Antwerp (?) c. 1580 (?)–Haarlem 1666
There is no known record of the time and place of Frans Hals's birth. His father was a cloth-worker from Mechelen and his mother came from Antwerp. According to one tradition Frans was 85 when he died, which would make the year of his birth 1580 or 1581; another report states that he was born in 1584. As his parents moved from Mechelen to Antwerp about 1581 his beginnings are quite obscure. They continue in obscurity for a good many years. His parents were in Antwerp in 1585 and in Haarlem by 1591, where Frans's younger brother, Dirck (who also became a painter), was baptized on 19 March. Theirs was one of the more than 600 families of Flemish textile workers who left the south for Haarlem after 1585. Nothing certain is known, either, about Hals's training or his early work. He is reputed to have been the pupil of the painter, historian and poet, Carel van Mander, but this is not confirmed in any second source, and there seems to be no trace of van Mander's influence on Hals's style. But then, no work can be attributed to him with any certainty before 1611, when he was not younger than twenty-six and probably nearer thirty.
He joined the Guild of Saint Luke in Haarlem in 1610 and married about the same time. His first child, Harmen, who also grew up to be a painter, was born in 1611 and in 1615 his wife died, leaving him with two children. She was buried in a pauper's grave, which is the first evidence of what has become established as Hals's financial condition. In 1617, Hals remarried. The banns were published on 15 January, the ceremony was on 12 February and a daughter, Sara, was baptized on 21 February. Hals's second wife, who was illiterate, bare him at least eight children and lived to be over eighty, surviving him by eight years. Three of Hals's sons by this marriage became painters, Frans Fransz. Hals the Younger, Reynier Fransz. Hals and Nicolaes Fransz. Hals. There was also Johannes Fransz. Hals (who was also a painter), but it is not certain whether he was of the first or second marriage. Counting sons, brothers and a nephew, there were nine members of the family, all named Hals, who were painters. Frans Hals began to make his reputation as a portrait-painter in 1616, when he was commissioned to paint the Banquet of the Officers of the St George Militia Company. But portrait painters were not held in very high esteem in Hals's day. Although he received commissions and trained apprentices or pupils, he was never widely famed and his finances were always precarious. His refusal to travel to Amsterdam to finish a group portrait of a militia company in the 1630s suggests that his frequent money troubles were of his own making. (The nineteenth-century tradition that he was also a drunkard and wife-beater was, however, a case of mistaken identity. The document probably referred to a Haarlem weaver of the same name.) Bills were unpaid: in 1635 he failed to pay his guild dues.
Other troubles followed. In 1642 his son Pieter was committed to an institution because he was dangerous, and in the same year his daughter Sara had an illegitimate child. In 1654 a baker seized his property to settle a bad debt. In 1661 the Guild exempted him from payment of the annual dues. In 1663 and in the years that followed he received a grant from the municipality. In 1664, at his request, he was given three cartloads of peat. He died on 29 August, 1666 in his mid-eighties and on 1 September was buried in the choir of St Bavo's Church in Haarlem.