Looking Over Vermeer's Shoulder (second edition)

by Jonathan Janson (painter & author of Essential Vermeer)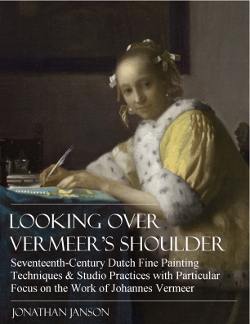 eBook (ePub) / PDF
+ 300 color illus.
January, 2016
$9.99


LOOKIN OVER VERMEER'S SHOULDER
(second edition)
by Jonathan Janson (painter and author of Essential Vermeer)
Who would have not wanted to look over the shoulders of one of the greatest painting technicians of Western art while he was at work?
The second edition of Looking Over Vermeer's Shoulder, which can be read by painters, art historians and laymen who are interested in the mysteries of how great artists transform inert material into great works of art, is the comprehensive, fully illustrated resource of the materials, techniques and pictorial tactics of the seventeenth-century Dutch master Johannes Vermeer and his most technically advanced colleagues.
In the first section, in-depth investigation sheds full light not only the artist's unique treatment light, color, composition, drawing and perspective but how he painted some of the most defining motifs of his interior, such as marble floor tiles, wall maps, drapery and white-washed walls. Detailed information is given about the artist's studio environment, how he devised his perfectly balanced scenes and how he was inspired by and made practical use of the camera obscura.
In the second section, each passage of Vermeer's rigorous, multi-step method is unraveled in the order one might encounter them in the painting process. This allows the reader to follow how the artist built up his images during the months of unremitting attention to every aspect of the painting process,, from the stretching of his fine-woven linen canvas to the final touches and glazes.
While carefully analyzing of all know data regarding Vermeer's painting procedures—with the aid of hundreds of full color images and diagram —the author combines his life-long study of Vermeer's art and his qualifications as a trained painter to produce an intimate, three-dimensional view of the painter, which no traditional art historical study can yield.

Introduction
Sources
Twentieth-Century Literature on the Techniques of the Great Masters
Modern Investigations of Vermeer's Technique
Direct Observation and Studio Reconstructions
PART ONE: STYLE AND TACTICS
Vermeer's Training, Technical Background and Artistic Ambitions
Then
Now
Vermeer's Cultural/Artistic Milieu
An Overview of Vermeer's Technical and Stylistic Evolution
The Three-Step Method
Evidence of Vermeer's Painting Technique
An Overview of Vermeer's Stylistic and Technical Evolution
A Few Notes on the Techniques of the Great Masters
Fame, Originality and Subject Matter
Fame
Originality and Influence
Subject Matter
Hierarchy of Subject Matter in Dutch Painting
Precedents: Scenes of "Daily Life": Dutch Domestic Interiors from 1600 to 1650
The Meaning of Vermeer's Painting
Expression, Self-Expression and Artistic Freedom in Vermeer's Time
Reality or Illusion: Did Vermeer's Interiors ever Exist?
Color
Color in Painting
Color vs. Drawing
Color and Pigment
General Terms
Color Symbolism
The Unity of Color, Form and Light
Dutch Color: Harmony
Symbolism of Color in Dutch Painting
Color Theory: From Aristotle to Vermeer
Vermeer and Color
The Colors of the Camera Obscura
Natural Ultramarine Blue in Vermeer's Painting
Were Vermeer's Color Real?
Composition
Traditional Composition
Formalist Composition
Vermeer and Composition
The Compositional Modules of Vermeer's Close Colleagues
Compositional Balance or Good Story-Telling?
False Attachments
Axial Relationships
How did Vermeer Compose his Pictures?
Key Elements in Vermeer's Pictorial Design
Perspective
Vermeer and Perspective
Perspective and the Camera Obscura
Vermeer's Vanishing Points
Aerial Perspective
Camera Obscura Vision
Function
History
The Camera Obscura Debate
Evidence of the Camera Obscura in Vermeer's Painting
Which Kind of Camera Obscura did Vermeer Use?
Did Vermeer Hide his Camera Obscura?
The Comparator Mirror
Light and Modeling
Light in Science and Painting
The Quality of Vermeer's Light
Modeling "by the Spot" or Vlak?
The Studio
Vermeer's Studio
Studio Light
Painting in Vermeer's Studio
Studio Equipment
Four Essential Motifs in Vermeer's Oeuvre
Whitewashed Walls
Pictures-within-Pictures
Maps
Floor Tiles
Drapery
Drapery in Vermeer's Painting
Painting Flesh
Flesh Tints
Flesh Tints in Vermeer's Paintings
The Pigments of Vermeer's Flesh Palette
Green Earth in Flesh Tints
A Few Notes on the Gestures and Facial Expressions of Vermeer's Figures
Mimesis and Houding: The Illusion of Reality
What Happened to Illusionism?
Mimesis and Illusionism
Houding
Spatial Depth
PART TWO: METHODS AND MATERIALS
Canvas
Panel or Canvas?
Vermeer's Canvas
Stretching Canvas in Vermeer's Time
Grounding
Dutch Priming
Vermeer's Grounds
Colored Grounds
Preliminary Drawing
Vermeer's Drawing
"Inventing" or Underdrawing
Vermeer's Underdrawing
Did Vermeer Trace his Underdrawing from the Camera Obscura?
Transferring Preparatory Drawings
"Dead-Coloring" or Underpainting
Why Underpaint?
Traces of Vermeer's Underpaintings
Working-up or Finishing
Working-Up in Vermeer's Painting
The Working-Up Sequence
Pigments in the Working-Up Stage
Detail
Final Touches
How Long did Vermeer Take to Complete a Painting?
Glazing
Vermeer's Glazes
Mediums, Binders and Varnishes
Secret Mediums
Vermeer's Mediums
Varnishes and Resins
Paint Application and Consistency
Basic Types of Paint Consistency and Application
Rubens and Painting Technique
Vermeer's Lights and Shadows
Half-Tones and Color Temperature
Blending and Overblending
Pigments, Paints and Palettes
The Difficulties of Handling Paint
Paint and Pigment
Lakes
Binders
Transparency and Opacity
The Selected Palette
Hand Grinding Paint
Did Vermeer Hand Grind his Own Paints?
The Purchase of Artist's Materials in Vermeer's Time
The Wooden Palette
The Known Pigments of Vermeer's Palette
Rare and Unidentified Pigments
Brushes and Brushwork
Brushwork: The "Painterly," the "Rough" and the "Smooth" Manners
Early Brushes
Vermeer's Brushwork
Vermeer's Late "Signature Style"
Notes
Bibliography
About
Illustrations