About the Essential Vermeer
Technically speaking, in 11 years the Essential Vermeer has grown from a simple one-page list of Vermeer websites and publications to the most complete site dedicated to an individual artist on the internet. The site now contains over 5,000 web objects, 500-plus individual web pages, thousands of links, more than 3,000 images and 200 audio files.
More importantly, the Essential Vermeer has become a place where I have done my best to present an organic and objective overview of Vermeer's art, life and times, a place where both Vermeer newcomers and longtime Vermeer enthusiasts can hopefully find food for thought and the information they require, efficiently. It has become a place where information on all the latest exhibitions, conferences and publications about Vermeer can be comfortably located, any time, day or night. And it is also becoming a bridge towards to the most recent developments in world-wide Vermeer scholarship.
Maintaining the highest degree of historical accuracy and objectivity, while continuing to expand the site's depth and breadth, is fundamental. Since I am a painter by profession, I have limited my personal considerations to the more technical aspects of Vermeer's paintings: after all, that's where I really feel at home.
I hope that my readers will not shy away from expressing their personal thoughts and feelings regarding Vermeer, they are warmly welcomed. In fact, I consider my readers the Essential Vermeer's most valuable resource.
Looking forward to hearing from you soon!
Jonathan Janson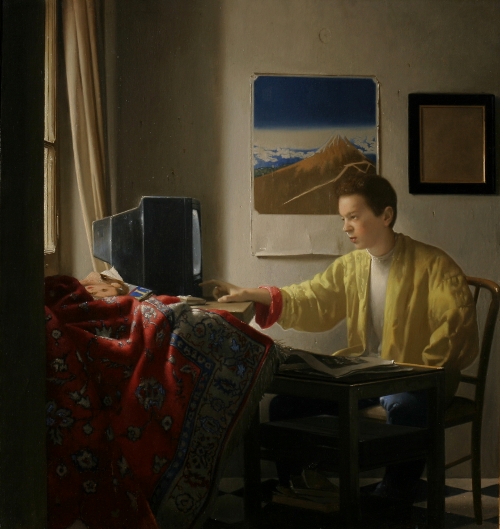 Young Man Turning on a TV
by Jonathan Janson
oil on canvas, 21 x 21 inches
2008-2010
a little about me
I was born and raised in the USA, graduated in 1972 from the Rhode Island School of Design with a major in painting. During the freshman art history course, I was introduced to Vermeer's Woman Holding a Balance. Puzzled by what I had seen, I took a short trip a few days after to Boston to see Vermeer's Concert at the lovely Isabella Stuart Gardner Musem. This visit would have a profound effect on my profession and personal studies.
Since graduation I have lived and worked in Rome, Italy as a professional painter.
If you are inclined, you may see a recent work below or more paintings and watercolors at: