Aert van der Neer
Moonlit Landscape with Bridge
c. 1648–1650
78.4 x 110.2 cm.
National Gallery of Art, Washington D. C.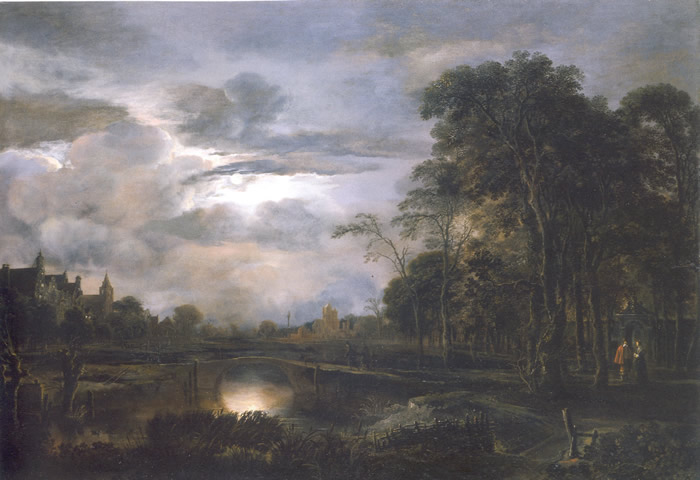 NEER, Aert van der
(1603/04, Amsterdam - 1677, Amsterdam)
Aertvan der Neer was famous for his nocturnal landscapes.He probably did not begin his painting career until after 1630 and then was unable to make a reasonable living from his art. In 1658 he opened a wineshop, but this venture ended in bankruptcy in 1662. He probably reverted to painting, for he is described as a painter in the inventory that was made of his few belongings at the time of his death.
Apart from a number of accomplished winter scenes, such as Riverscape in Winter (Rijksmuseum, Amsterdam) in the manner of Hendrik Avercamp, he specialized in canal and river landscapes seen by the light of late evening or early dawn or (most characteristic of all) by moonlight, as in River Scene by Moonlight (Rijksmuseum, Amsterdam). Within this limited range he had no rival among his contemporaries; his best pictures are distinguished by sensitive handling of subdued light and its reflections on water and in the windows of riverside houses. His son Eglon Hendrick van der Neer (1634–1703) and grandson Aert van der Neer the Younger were also painters.