Josse van Craesbeeck
The Painter's Studio
Oil on panel, 48.5 x 66 cm.
Frits Lugt Collection, Paris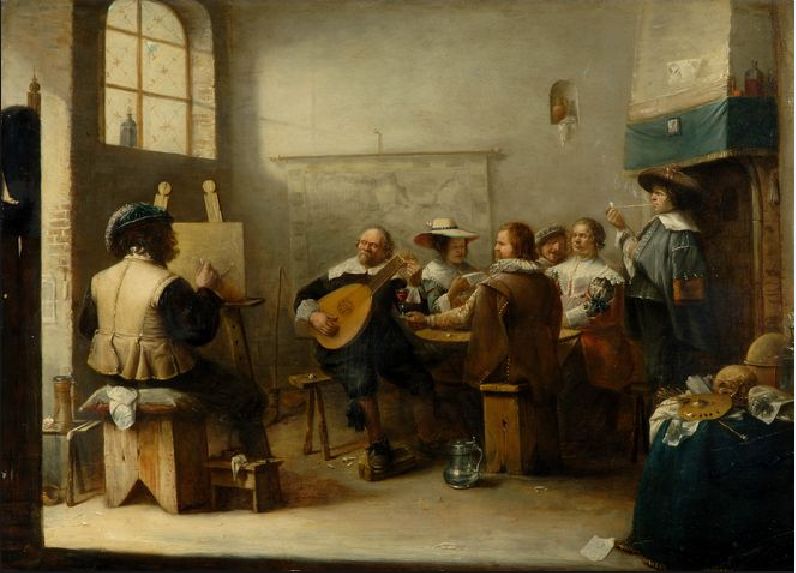 Josse van CARAESBEECK
b. about 1605, d. before 1662
from the Getty website:
Working as a prison baker may have led directly to Josse van Craesbeeck's painting career. In 1633, Adriaen Brouwer, a prominent genre painter who probably became Craesbeeck's teacher, was imprisoned for tax debts at the Antwerp jail where his future pupil baked bread. Craesbeeck soon enrolled as both a baker and a painter in the Guild of Saint Luke. Eighteen years later he had moved to Brussels, where he was a master in the painter's guild and later became a town representative.
Craesbeeck specialized in small genre scenes with few figures. His early paintings were very similar to Brouwer's in their handling of paint, composition, subject matter, and approach. Like Brouwer, he painted peasants, often in taverns, though he later turned completely to the middle-class world. Craesbeeck also attempted to depict emotions and applied colors thinly, leaving the ground partly visible as his master had done. His mature work adopted an established repertory of figures that makes his work easy to recognize: bearded men with flat or fur-decked caps and women with white bonnets or conspicuous straw hats.