Ambrosio Bosschaert
Bouquet of Flowers in a Glass Vase
1621
Oil on copper, 31.6 x 21.6 cm.
National Gallery of Art, Washington D.C.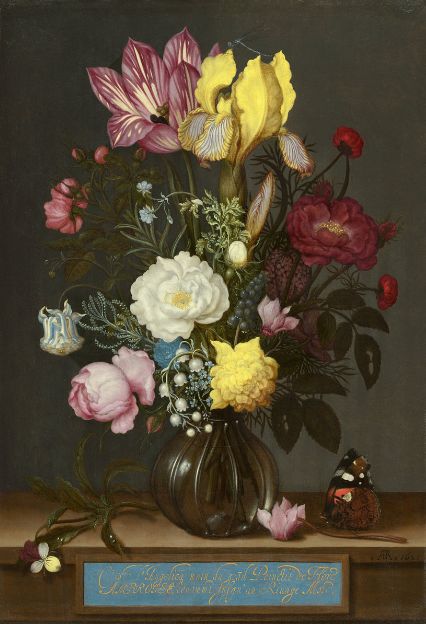 Ambrosius BOSSCHAERT
Antwerp 1573–The Hague 1621
Only a few details of Bosschaert's life are known, and they add little to an understanding of his very special type of flower painting. He must have left Antwerp when quite young, as he was over the border in Middelburg during the period c.1593–1613. Although trained in Antwerp-and indeed his pictures always betray his Flemish upbringing—Bosschaert can be said to have had a decisive influence on still life painting in the Netherlands. His own style was largely based on that of the Antwerp artist Jan (Velvet) Brueghel (1568–1625), and Bosschaert's intense proccupation with highly finished treatments of individual flowers in a vase set a standard which took a long time to surpass. His pictures are surprisingly rare and are much sought-after by present-day collectors.
from:
Christopher Wright, The Dutch Painters: 100 Seventeenth Century Masters, London, 1978
v