Details of Vermeer's Painting Technique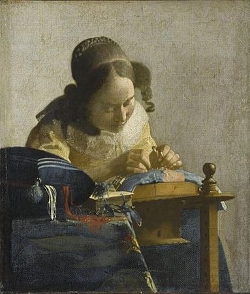 The Lacemaker
Johannes Vermeer
c. 1669–1671
Oil on canvas on panel, 24.5 x 21 cm.
Musée du Louvre
, Paris
Focus
Another example of the Vermeer's supreme control of the medium that might easily escape attention can be found in a stamp-sized detail that represents two taught threads at the center of The Lacemaker.
Other than possessing a steady hand and perfect vision, to render this passage, the painter must determine the appropriate viscosity of his paint in order to obtain a constant, yet controlled flow from the near invisible point of his fine-tipped brush. Moreover, careful inspection reveals that the tone of the right-hand thread is slightly lighter than that of the left-hand thread, which instead, is slightly blurred as well. The subtle differentiation in focus and tone makes the right-hand thread appear softly illuminated while the left-hand thread appears to be set slightly deeper in space than the other, encompassed in an envelope of luminous shadow cast by the lacemaker's hand.