The School of Delft
(part two)
Man Writing a Letter
Gabriel Metsu
c. 1662–1665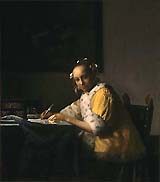 A Lady Writing
Johannes Vermeer
Before 1650 genre paintings of taverns, gambling, chaotic households and quarrelling peasants were very popular. The school of Delft instead, preferred to represent a completely different world of respectable upper middle-class households in which elegantly dressed women and gentlemen pursued refined activities such as letter writing and music making. Letter writing, in particular, had become a popular theme among artists in a society who prides itself on a relatively high standard of education. It had also become an important part of the Dutch mercantile culture where many a husband and wife were separated by enormous distances for long periods of time. In these two paintings the gestures of the writers are almost identical. A dignified naturalness also pervades both works.
Woman Reading a Letter
Gabriel Metsu
c. 1662–1665
The Love Letter
Johannes Vermeer
Hidden symbolic allusions with strong underlying moral overtones gave genre painting a new respectability. Painters explored various physiological nuances within their paintings through the use of allegory. In both Vermeer's and Metsu's painting hanging on the wall is a marinescape with a stormy sea which alludes the passions of love, thus the letter which is being read by the elegantly attired young women is interpreted as a love letter. The similar dress of the figures, the strong left to right raking light and highly geometrical composition demonstrate that Metsu and Vermeer probably followed each others artistic development with great attention.