Paintings Acquired from Vermeer During or Soon after the Artist's Death
Herman van Swoll - "a seated lady with several meanings representing the New Testament, by Vermeer of Delft"
In 1699, Herman van Swoll's descendants sold his fine art collection, which had been assembled with great difficulty and effort over the passing of time. One of the Van Swool's works, the Allegory of Faith by Vermeer merited special mention and was noted in the announcement in the Amsterdamsche Courant as "an artful piece by Vermeer of Delft."1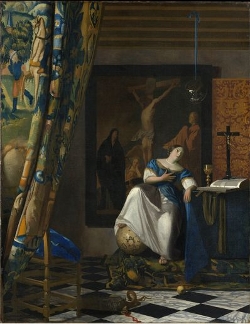 Allegory of Faith
Johannes Vermeer
c. 1670–1674
Oil on canvas, 114.3 x 88.9 cm.
Metropolitan Museum of Art
, New York
The Allegory was sold with a collection of Italian paintings in Amsterdam and described as "a seated woman with several (symbolic and allegorical) meanings, representing the New Testament by Vermeer of Delft, vigorously and glowingly painted 400-0," making it the most highly paid work sold by Vermeer sold in the seventeenth century. This fact shows that when Vermeer painted in the flat classical mode that was in vogue at the time, "he could produce a painting that was nearly as valuable as any sold by the most fashionable painters of the period.2
Van Swoll was the Amsterdam postmaster of the Hamburg mail service. He was a Protestant and was buried in Noorderkerk on December 23,1689. His art collection contained works by "modern" Dutch artists, such as a work which represented "singers, by Gabriel Metzu," a piece that fetched 65 guilders at the sale of his estate on 22 April, 1699. He also possessed many Italian works which, however, were not all original paintings. It is known that he employed Nicholas Verkoljen to make copies after the originals, for which Van Swoll was charged twelve guilders a copy. Van Swoll was one of the few who managed to acquire a Vermeer before the Dissius sale in 1696 although is not known when he started buying art.
Arthur K. Wheelock Jr., exh. cat. Johannes Vermeer, eds. Arthur K. Wheelock Jr. and Ben Broos, London and New Haven: Yale University Press, 1995.
John Michael Montias, Vermeer and His Milieu: A Web of Social History, Princeton, NJ: Princeton University Press, 1989.